Why do we love eclectic decor? Because it allows us to rip up the rule book and do whatever we want! Ask any interior designer and they'll tell you that the usual guidelines for your home's scheme simply don't need to apply when you want to capture an eclectic aesthetic. This means that if you want a living room with furniture from 20 different eras in it, you go right ahead! Fancy a bathroom filled with colors that clash? Good for you! And don't forget that you can layer pattern upon pattern and still be tapping into a definite style of design! Let's take a look at some rooms that perfectly demonstrate how gorgeous eclectic styling can be and see if t is the right choice for you!
1. In an otherwise fairly pared back and traditional kitchen, mismatched chairs and cushions really add some unexpected funkiness!
2. Bright lamps, flowers, antique furniture and upcycled pieces shouldn't look amazing together, but they do! Look at that light too!
3. If this room teaches us anything, it's that pink and gold never gets old, as a color scheme! Everything here just keeps you guessing!
4. Forget what you think you know about working with color, as eclectic decor means that ANYTHING GOES! Just look at the odd combo of colors here that, somehow, work!
5. A piquant mix of pastels and bold colors creates a really unusual and personal space! How ideal for a kid's bedroom!
6. Patterns with patterns absolutely can work in your home, if you are attempting to create an eclectic look!
7. Round kitchen cabinets? Have you ever seen anything like this before? So unusual and funky, we love the injection of color too!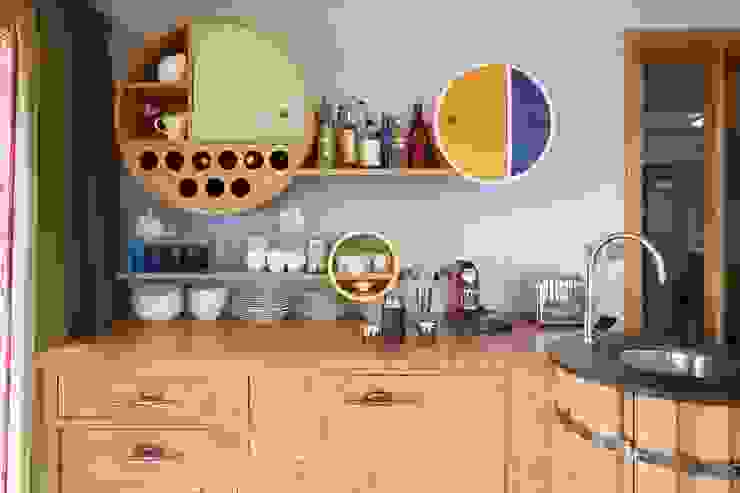 Edenbridge
Johnny Grey
8. Color on color and textures in abundance have made what could have been a neutral room here super eclectic and fascinating!
9. Woah! With no discernible style selected, a little bit of everything really works here! How can an antique chair and rustic farmhouse door look right together?
If you are on the cusp of being convinced to try your hand at eclectic decor, this article could tip you over the edge: 8 eclectic decor ideas for your home.