Anyone can have a stylish kitchen, just ask any professional kitchen planner, but if you want to make yours stand out in a crowd, you simply have to consider adding a bright splash of color! If you're wondering how you can do that without totally overshadowing your existing scheme, come with us now, as we show you some absolutely fantastic ideas that are ripe for copying! Don't feel bad about emulating someone else's kitchen though… don't you know that imitation is the sincerest form of flattery?
1. These red stools have totally brightened up a gray and white space and added in a serious punch of colour! So chic!
2. Wow! A feature wall has been perfectly matched with a turquoise stove and fridge! Now that really is an unusual touch!
3. YES! We are so in love with the idea of mixing and matching your cabinet door colors! The dark contrasting varieties here are superb!
4. Just look at how impactful this colorful corner is! a great way to showcase some striking tiles, it makes for such a bold installation.
5. We couldn't be more enamoured with this mural kitchen island! Such a subtle yet eye-catching detail that adds in some personality!
6. A pastel splashback and fridge have been so well complemented by bright yellow chairs here! Yellow could be our new obsession!
7. Painted wooden trim is a great way to make a serious impact on a kitchen. Love those vibrant tiles as well!
8. In a totally neutral kitchen, a simple painted wall has had such a big impact! It looks directly sourced from the garden as well, having been finished in a lovely blue-green!
9. Comfortable and colourful bar stools, along with some striking blooms, have made for a really bold kitchen design here. Is that a matching toaster too? Amazing!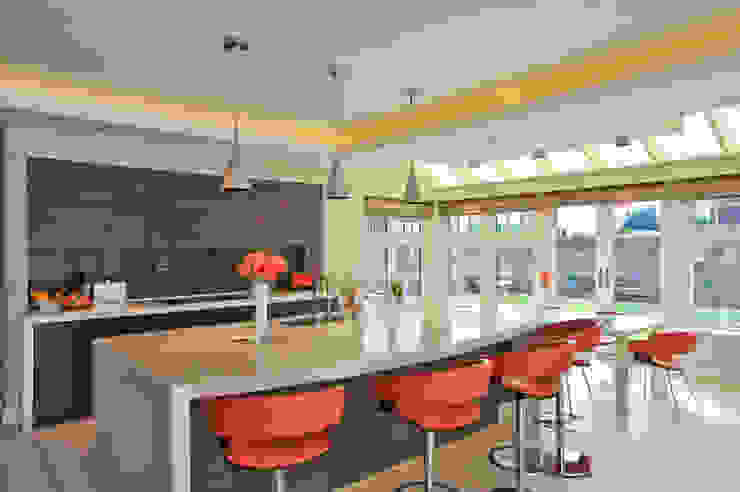 Beech Kitchen
Diane Berry Kitchens
10. Don't forget that some subtle colour can work well too! These pale pastel tones make for such a lovely and muted look, without being boring!
For more kitchen inspiration, take a look at this Ideabook: Kitchen wars: Canada vs USA!